We've been MIKA German Shepherds since 1976. Over the years we have always had 4-10 dogs at any given time. We have bred only a very few litters. Intact females cause frequent breaks in our training and showing, while they are in heat.
We currently own and love 4 German Shepherds.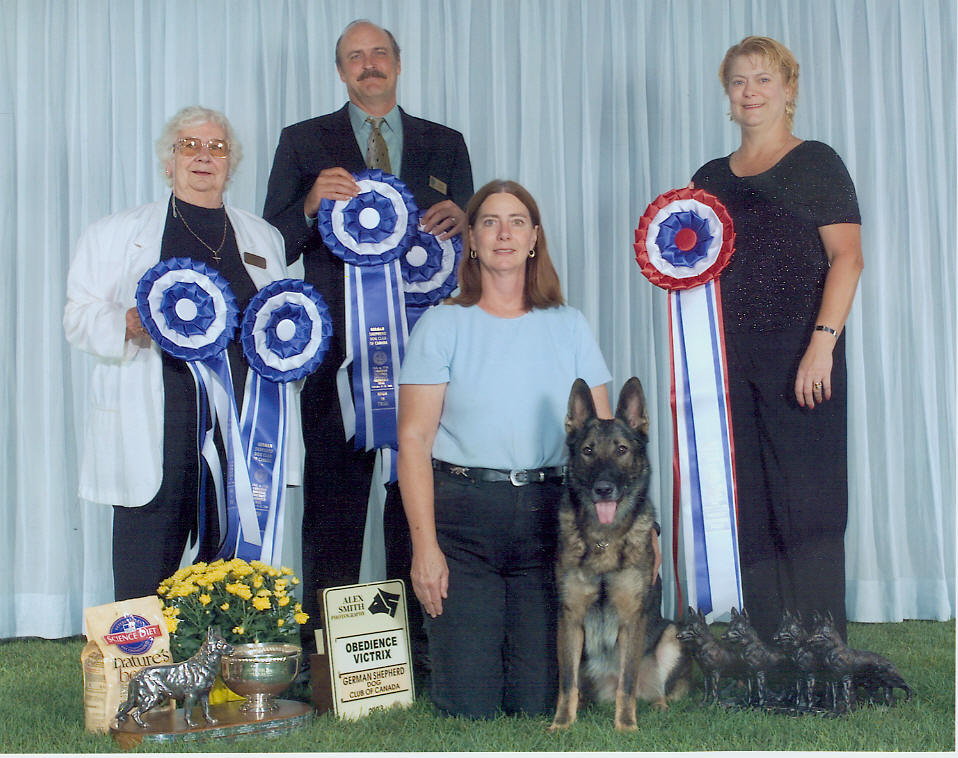 GSDCA PAM, AKC OTCh. 2x Can. O.V., MOTCh.,U-CD Bella vom Highland Haus Am. UDX-2, Can. UD, TD, NJP, NAP, RAE, VCD-1, BH, TT .
"Wezel" has had a wonderful career earning her obedience titles. She has earned many High-In-Trials and High Combined Scores (from Open B And Utility B classes). She was ranked overall #6 GSD in Delaney Points 1999 and was Ranked #3 Novice GSD 1999. She placed 7th in Open at the World Series of Obedience in 2000. German Shepherd Dog Club of Canada 2002 and 2003 Obedience Victrix. 2 perfect scores of 200! Earned our AKC OTCh title on June 13, 2004 and awarded the prestigious PAM (Performance Award of Merit) by the German Shepherd Dug Club of America on 5/21/05.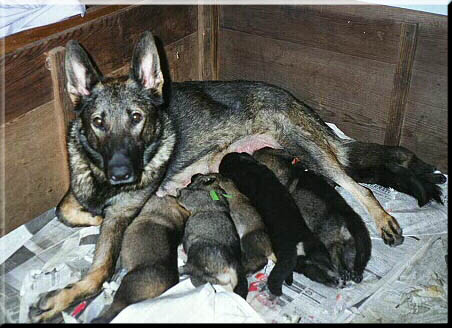 Wezel with the "G" Litter.
PAM Gidget vom Mika-Ashmead See below.
OTCH Galli-Curci vom Mika-Ashmead UDX2
MACH Gentry vom Mika-Ashmead VCD-1, CD, TD, AX, AXJ, RA
PAM Geno vom Mika-Ashmead VCD-1, CD, TDX, OJP, OAP
Gomojo vom Mika-Ashmead
Gunner vom Mika-Ashmead
PAM U-CD Gidget vom Mika-Ashmead, Am. & Can.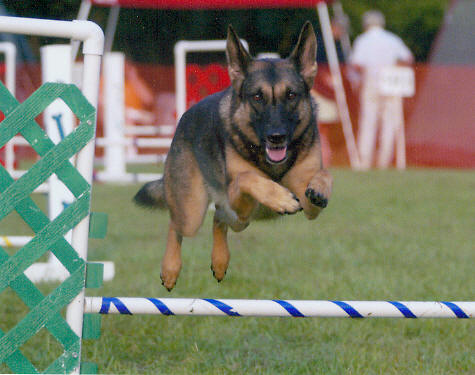 CDX, TD, VCD-2, AXP, AJP, OA, OAJ, RAE, SchH1, BH, APDT RL3 MCL, RLX1 is "Wezel's"daughter. She's very versatile, showing in Obedience, Rally Obedience, Agility and Schutzhund.
PAM SG Feeby vom Mika-Ashmead Am. UD, Can. CDX, RAE, TD, OAP, NJP, VCD-1, TC, IPO3, AD, BH, HIC, CGC
She's coming into her own now. Doing great in everything she doing. Agility, obedience, Schutzhund, rally, tracking. 5 time High in Trial at the German Shepherd Dog of Canada National. Feeby also has a conformation rating of SG (Very Good).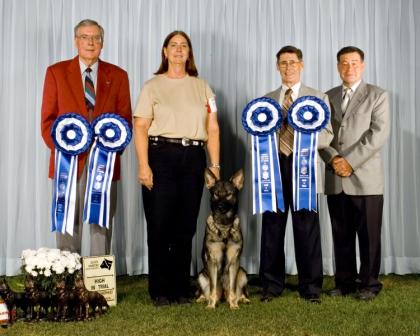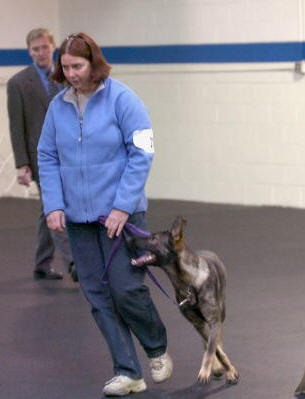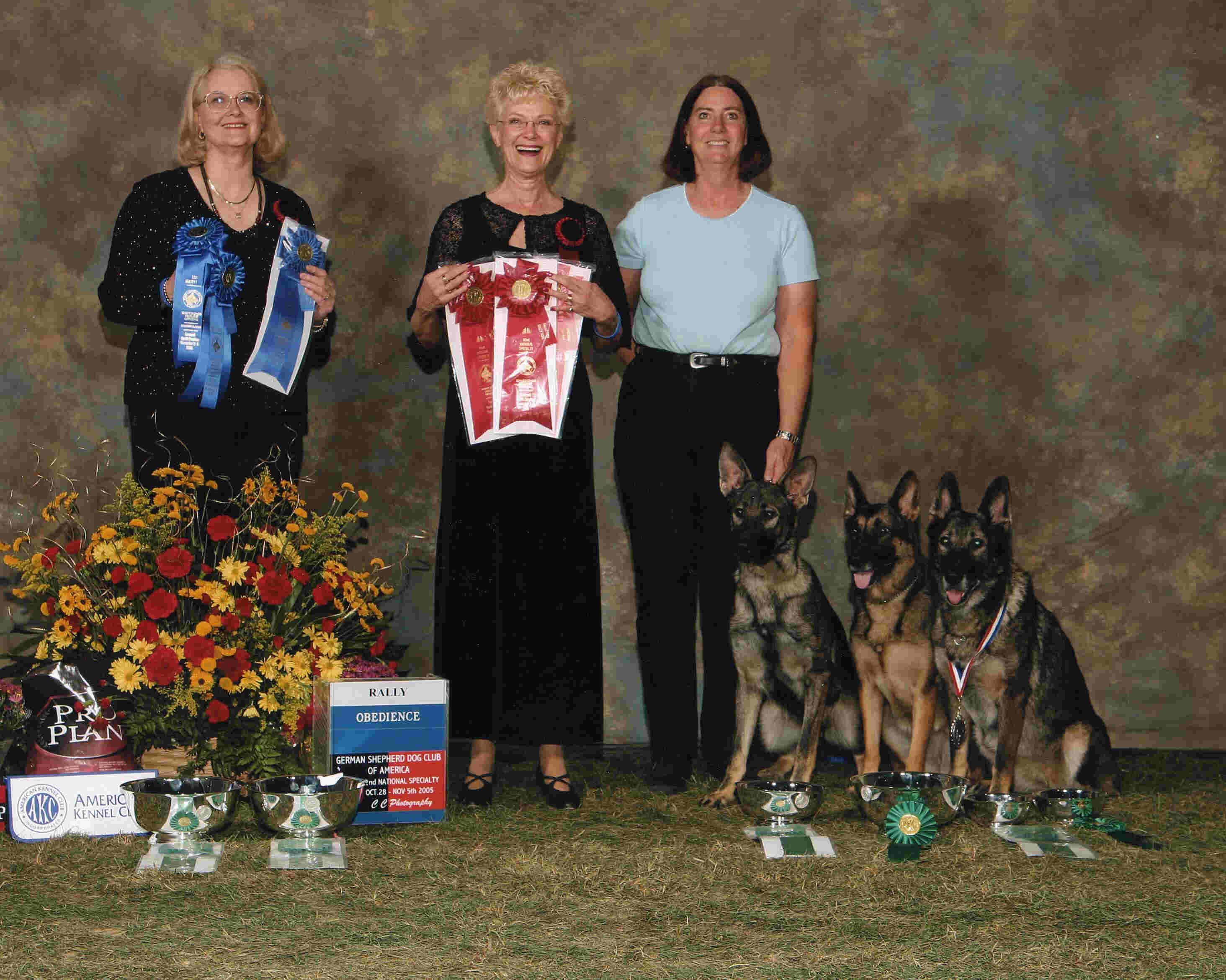 Arys von den Sportwaffen, IPO2, FH2, CDX, TD, RAE, BH, HIC, TT Mike's boy. He's our "angel" (dark angel that is!) Yes, he's a solid black German Shepherd.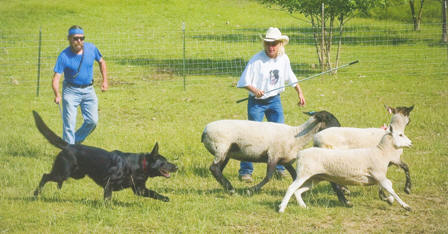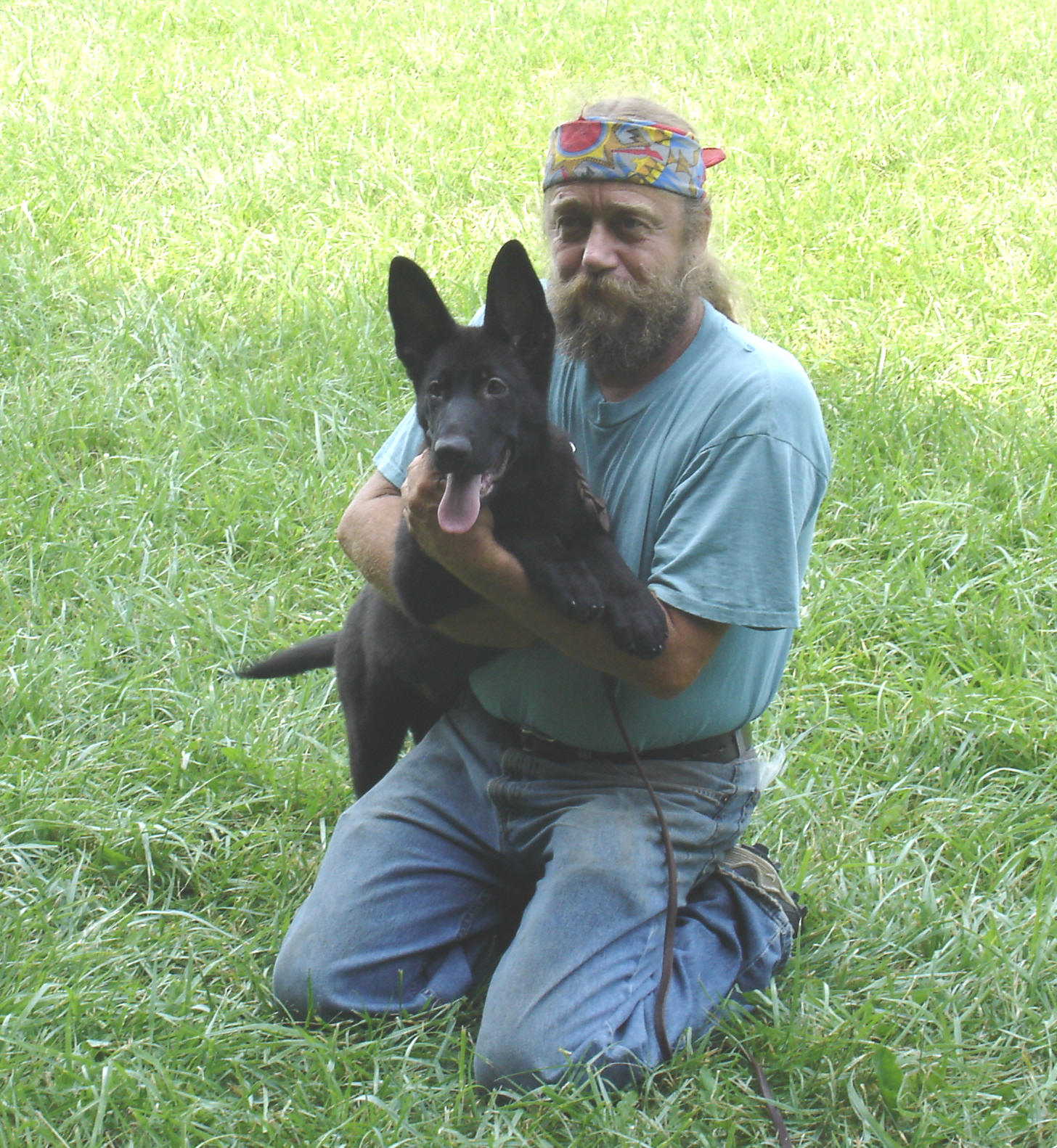 Helena vom Mika CD, RE, TR1. Lena is a Feeby daughter.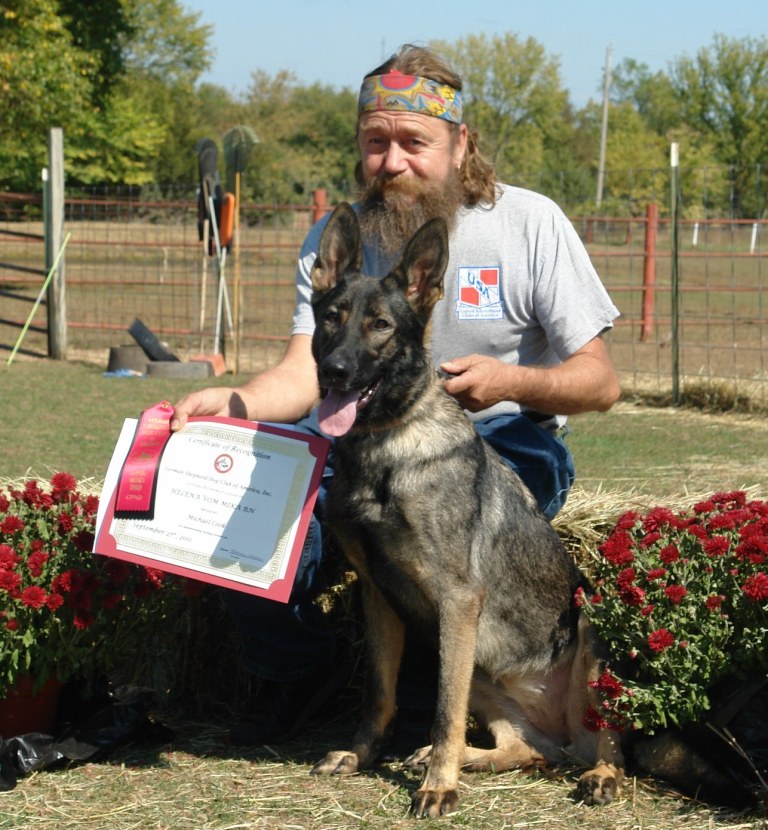 Axel von Tiekerhook, CDX, GN, BN, CD, HT, RN, PCD.
Watch for us in the obedience ring. He received a 200 perfect score his 2nd time in the ring! OFA Good Hips and Normal Elbows. Now available for stud to approved females. Click to review his Pedigree.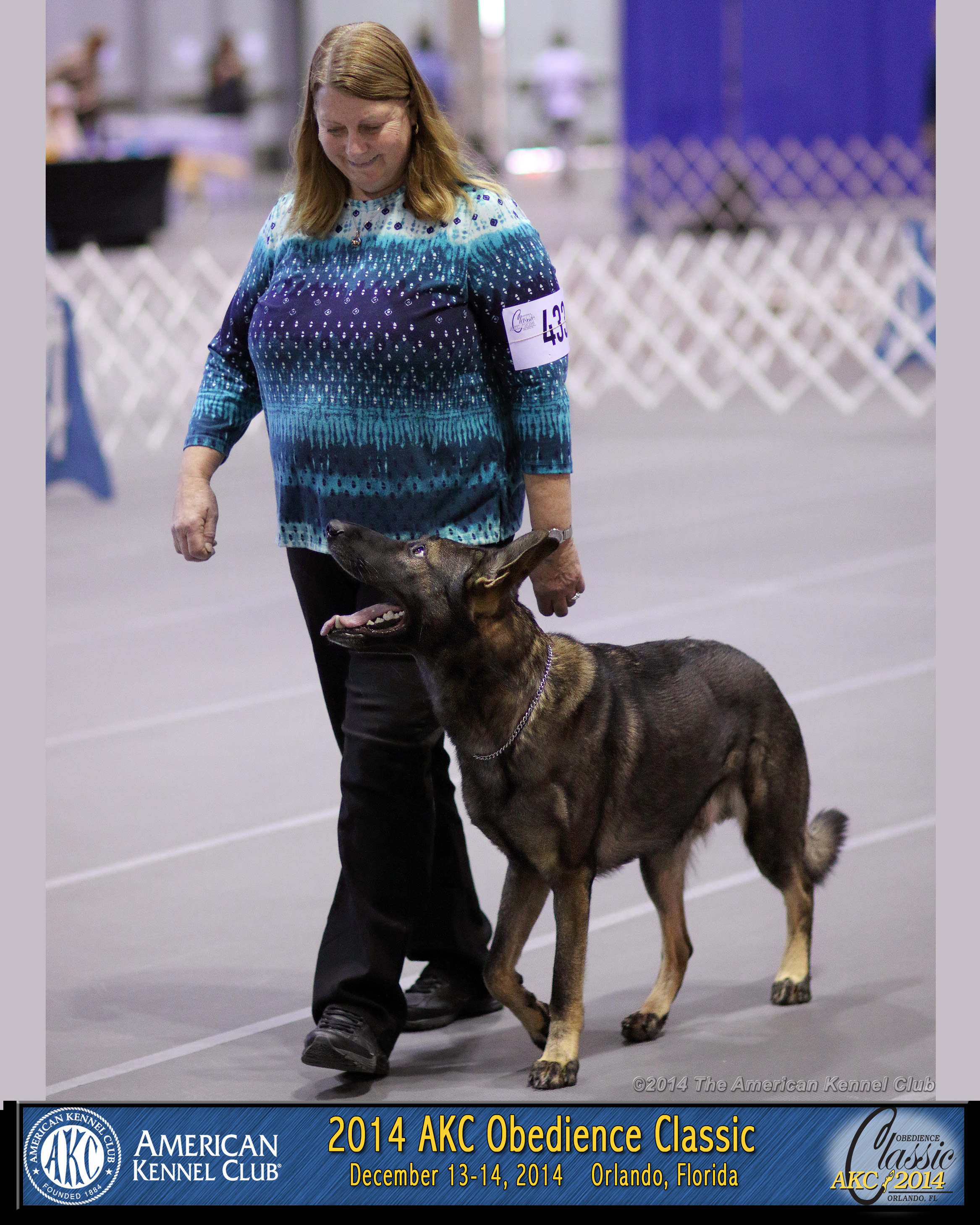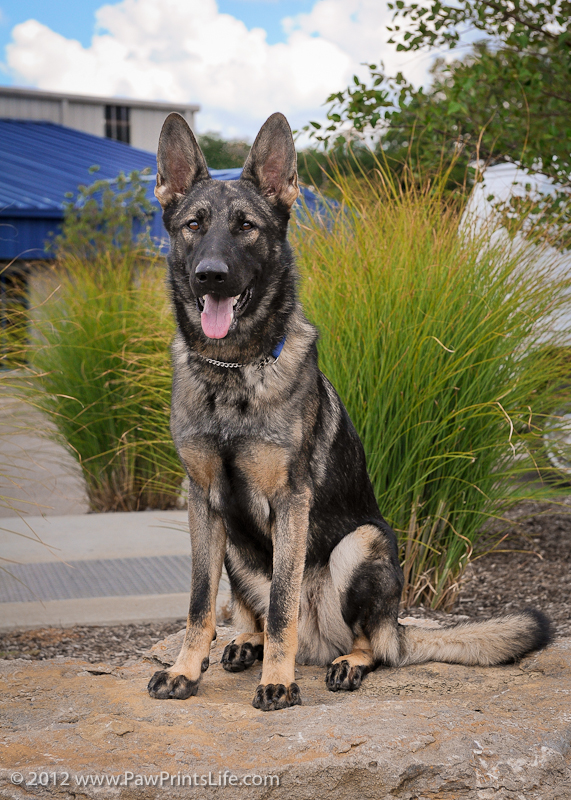 Clay vom Grewe Haus CD, BN, RA, BH. Mike's young dog Clay is a sweetheart!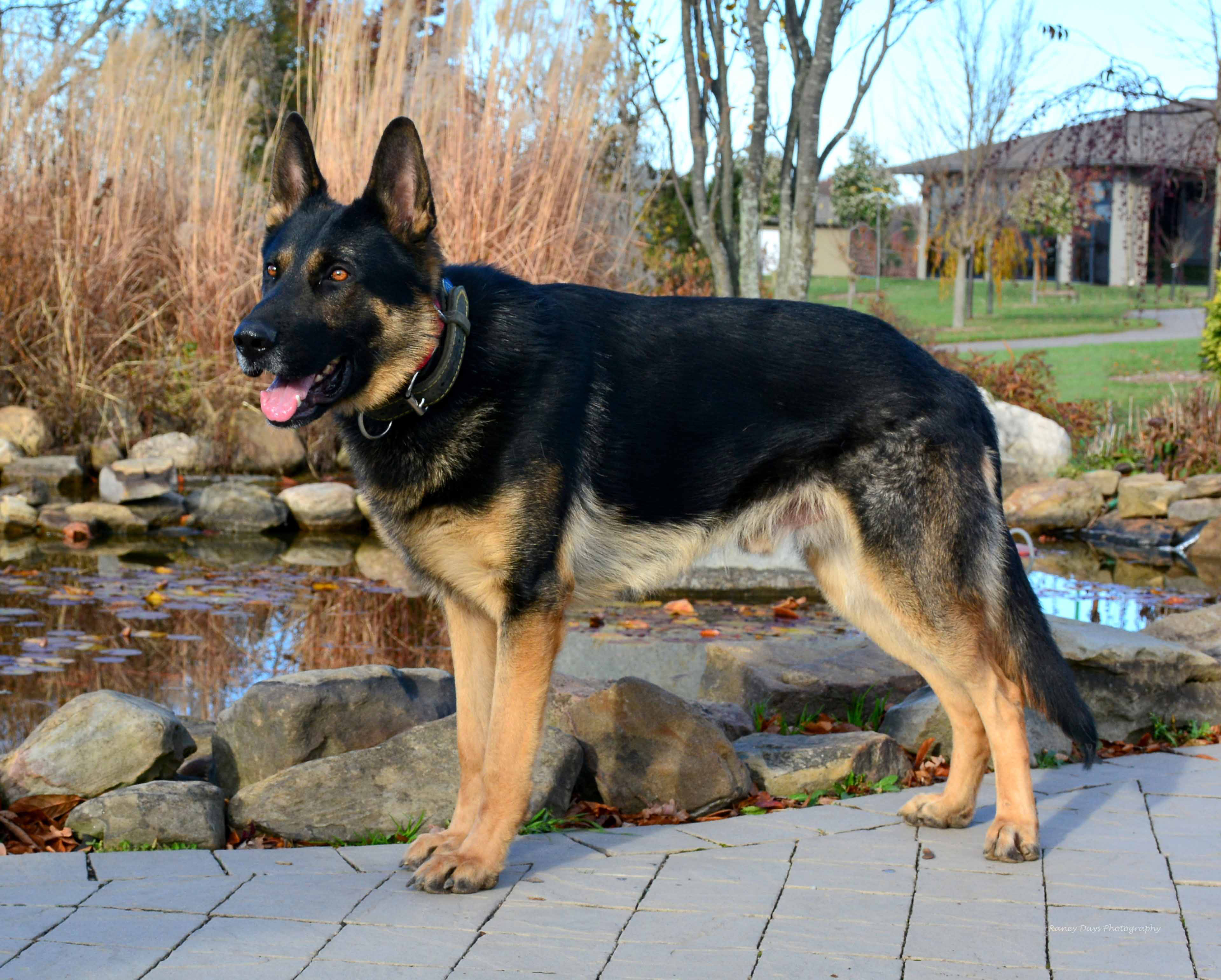 Ivy von Hügelblick CD, PCD, BN, GN, HT, BH, CGC. She is my newest girl!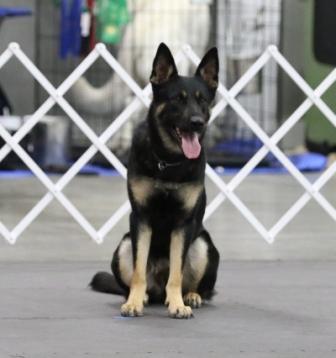 ---
Dogs that have gone ahead and are waiting at the rainbow bridge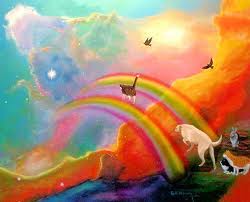 Arys von Sportwaffen IPO2, FH2, CDX, TD, RAE, BH, HIC, TT
03/27/06 - 01/20/18

PAM U-CD Gidget vom Mika-Ashmead, Am. & Can. CDX, TD, VCD-2, AXP, AJP, OA, OAJ, RAE, SchH1, BH, APDT RL3 MCL, RLX1
08/07/00 - 02/27/14

PAM Feeby von Mika-Ashmead SchH3, VCD 1, UD, RAE, OAP, NJP, TD, Can. CDX, AD, BH, HIC, TT, CGC
08/23/04 - 08/17/12

Brix vom Highland Haus CD, BH, TR1
3/11/97 - 1/11/11
PAM, AKC OTCh. 2x Can. O.V., MOTCh.,U-CD Bella vom Highland Haus Am. UDX-2, Can. UD, TD, NJP, NAP, RAE, VCD-1, BH, TT
3/11/97 - 2/13/010
"Jack" the Irish Setter
Rescued 9/96 - 12/10/09
Bianca von Kohs Am & Can. CD, BH, FH , TR3
11/9/93 - 09/23/07
U-CDX Franza vom Mika Am & Can. CDX, BH, AD
09/10/90 - 04/27/02
U-CDX Mika's Charcoal Smoke and Ash UD, CGC
05/28/86 - 09/16/00
U-CDX Randawn's Kysor vom Mika UD, SchH 2, Can. CD, BH, AD, CGC
03/16/88 - 11/11/00
Asta vom Babstenhof CD, CGC
07/02/88 - Spring/99
U-CDX Katie's Best Friend Heidi UD, CGC
06/06/83 - 03/23/93